We cover Melbourne's garages, homes and commercial flooring with epoxy!
Request Your Epoxy Flooring Quote Now
Our Epoxy Flooring Melbourne Services
Epoxy flooring is the perfect choice for any garage as it looks great, and is durable and easy to clean! It will instantly make your garage look nice and add value ot your home.
We are experts at large scale epoxy flooring. We have worked on showrooms, offices, hospitality venues & more. Epoxy flooring is durable and perfect for igh traffic areas.
Epoxy flooring is a popular choice for warehouse flooring due to its durable and non-slip properties. We have covered many warehouse floors across Melbourne in a variety of finishes.
We are Melbourne's Epoxy Flooring Experts!
Do you need the best epoxy floor for your home, garage or commercial property in Melbourne? If so, you are in the right place! We specialise in garage epoxy flooring, warehouse epoxy flooring and epoxy floors over straight over concrete!
We pride ourselves on providing a complete epoxy flooring service. From helping you choose the best colour and finish to suit your desired look, to the highest quality installation. We are your epoxy flooring experts right across Melbourne!
If you are looking for the not only the best floor, but the highest level of customer service, contact us today. We know you will not be disappointed in our service.
Call us today for a FREE quote on all residential and commercial epoxy floors across Melbourne!
Epoxy Flooring For Residential & Commercial Properties Across Melbourne
We provide quality epoxy flooring services to not only residential properties, but also to 
commercial
and industrial properties across Melbourne. We provide no obligation FREE quotes for all jobs. Our highly experienced crew of epoxy flooring professionals will attend your home, property, or site to provide the best epoxy flooring solutions across Melbourne. Let our friendly and experienced team take the hassle out of epoxy flooring installation.
Where can epoxy flooring be used?
Epoxy flooring is a suitable surface for a number of locations across your home or business. From your own garage at home, to commercial properties, as well as an industrial setting, this surface is not only hard wearing but also looks great! It can be poured directly over tiles or concrete to give your floor a brand new look.
If you have any questions about weather or not epoxy flooring would be suitable for your needs contact our friendly team today, we also provide FREE quotes on all jobs.
We have also created an Ultimate Guide To Epoxy Flooring, which covers everything that you need to know about this type of flooring.
Epoxy Floor Coating Finishes… Solid Colour? Flake?
With a range of colours to choose from, your epoxy floor can be far more decorative than most people realise. Having a safe and durable floor does not mean that it has to look ugly, making epoxy the perfect choice for many situations. 
Decorative finishes can easily be created especially for residential homes, coordinating in with your interior designs and colour schemes.
Professional Application Avoids Problems with Epoxy Flooring
You should hire a professional company to install your epoxy flooring. Our solutions are perfect for a wide range of locations, and our experience means that you will receive the highest quality finish.
Installing an epoxy floor yourself may seem simple, but it is important to make sure the floor is correctly sealed so that is remains durable and water tight, so it is best to leave it to the experts.
We provide a professional service every time and always clean up after every job. We offer the best epoxy flooring Melbourne has to offer. Contact our team today for a FREE quote today.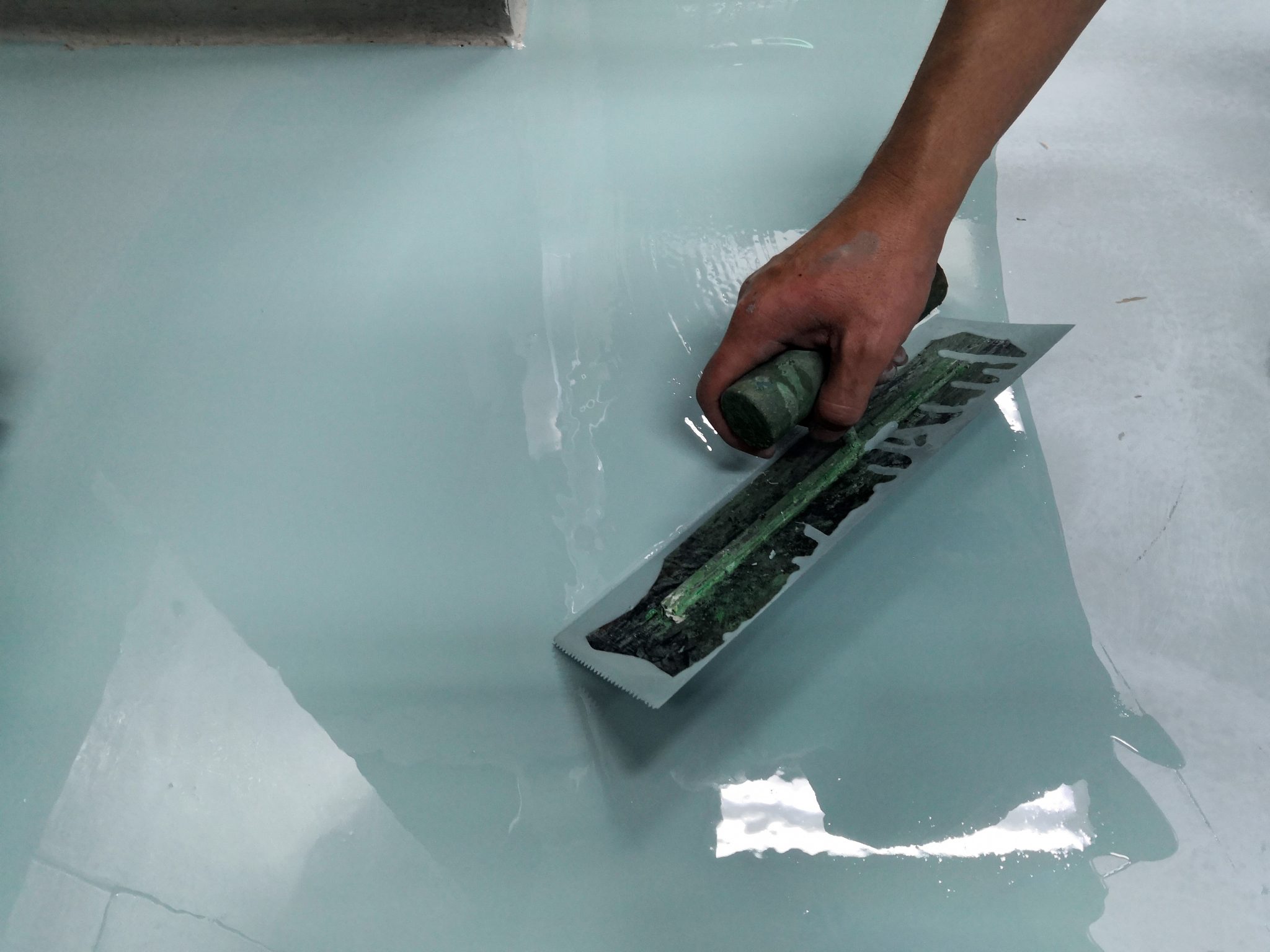 Request Your Epoxy Flooring Quote Now
First time buying an epoxy floor?
Call us today and we can talk you through the options.
The Benefits Of Choosing Epoxy Flooring For Your Melbourne Property
When it comes to epoxy flooring Melbourne, there are various advantages and benefits to having this durable surface installed on your floors
It's Hard Wearing and Durable
An epoxy floor coating is both hard-wearing and durable. That's a huge benefit when you have a high traffic area or somewhere that will suffer from wear and tear.
Epoxy Applies Directly Over Concrete
That old concrete surface may have served its purpose, but concrete floors are hardly non-slip. Epoxy coatings can be applied on top of a concrete floor, and in an instant, it will transform the entire space.
Instead of carrying out some concrete resurfacing in the hope of getting more grip, these floor coatings are going to provide you with a non slip surface that works. Epoxy flooring provides you with real peace of mind regarding your safety, and that's something you need to keep in mind in all settings.
Super Hard Wearing & Spillage Resistant
Aside from durability, our epoxy floor coatings are also resistant to spillages. This can be a huge deal with a garage or industrial setting where spillages can occur, and they do so on a regular basis.
Epoxy flooring is really easy to maintain and clean Most floors will leave some residue, leading to resurfacing being required on a regular basis, not with epoxy flooring.
Call us today for all of your epoxy flooring needs across Melbourne!
Our company only ever provides a quality job as part of our range of services. We are not merely going to come to your property and start sealing in the old flooring in order to complete the job as quickly as possible. That's not our style.
Instead, we inspect the floors and determine if some concrete repair has to be carried out before the new epoxy flooring is applied. That way, you know your floors will be far more durable than ever before, and the quality of our work cannot be surpassed.
Due to the quality of our work, as well as the materials we use, we provide a floor that is long lasting. Also, we guarantee you will be happy with the cost, but we also recommend getting your free quote to see just how little money it can be to have this epoxy floor installed in your property.
Contact Us Today For Epoxy Flooring Across Melbourne
If you want to have the best epoxy floor coating Melbourne has to offer installed on your flooring, then contact us today to learn more about each service we offer. When you contact us, we will take you through not only the cost of installing your epoxy garage floor, or even concrete resurfacing, but any epoxy coating you care to imagine.
We provide various colours to be added to the epoxy floor that can then be applied to your concrete. But when you contact us regarding your floors, ask for your free quote. Remember, there are no obligations attached to it, and we can assure you of a high quality finish every time.
Request Your Epoxy Flooring Quote Now
Call us today to get started on your new epoxy floor!