Commercial Epoxy Flooring Solutions
Delivering epoxy coating solutions to Melbourne's construction industry
Why Choose Epoxy For Your Commercial Flooring Melbourne?
We may be biased, but epoxy really is the perfect flooring solution for many commercial spaces. It is non-slip, safe and very durable. Here are some other reasons why epoxy is a great choice for your commercial floor. If you are unsure if epoxy is right for your space, call our friendly team today and discuss your situation.
The first reason is that this flooring is going to be resistant to chemicals. That means spillages won't eat away at the floor damaging it in an instant. This alone is a huge safety bonus, and it's one of the major reasons why commercial or industrial settings incorporate this sort of flooring in their building.
Difficult for Machinery to Damage it
Another reason is that the flooring itself is very durable and strong. That means machinery is not going to damage it straight away. Other flooring solutions can rip and tear in an instant, but epoxy flooring is different in a commercial setting. It can withstand so much, and still look perfect at the end.
It Provides a Safe Working Environment
One of the main reasons why epoxy flooring is so important is due to it providing a safe working environment. This is mainly due to its non-slip properties, which makes it significantly safer to work on that surface.
There are a multitude of other benefits including the floor being hard-wearing, being easy to keep clean, and also being relatively inexpensive to lay compared to other types of flooring.
If you would like to learn more about the benefits of epoxy flooring, then contact us via the number on our website. We will be happy to answer any questions, and do remember to ask for our free quote that's available to all potential customers.
Call now and get a free quote on commercial epoxy flooring!
How The Installation Works
So, how do you go about having a commercial epoxy floor installed at your property? Well, it's easier than you think.
First, you contact us via the number listed on our website. That will then allow you to discuss your own particular needs with our installation team. They can advise you on the best course of action for your commercial property as well as offering advice on how long the entire installation process will take.
Our team will then come to your location and get to work. One of the benefits of this type of flooring is the speed at which it can be laid, so your commercial property will not be out of action for too long.
In next to no time, your floor will be safe and highly durable, and for less money than you would expect.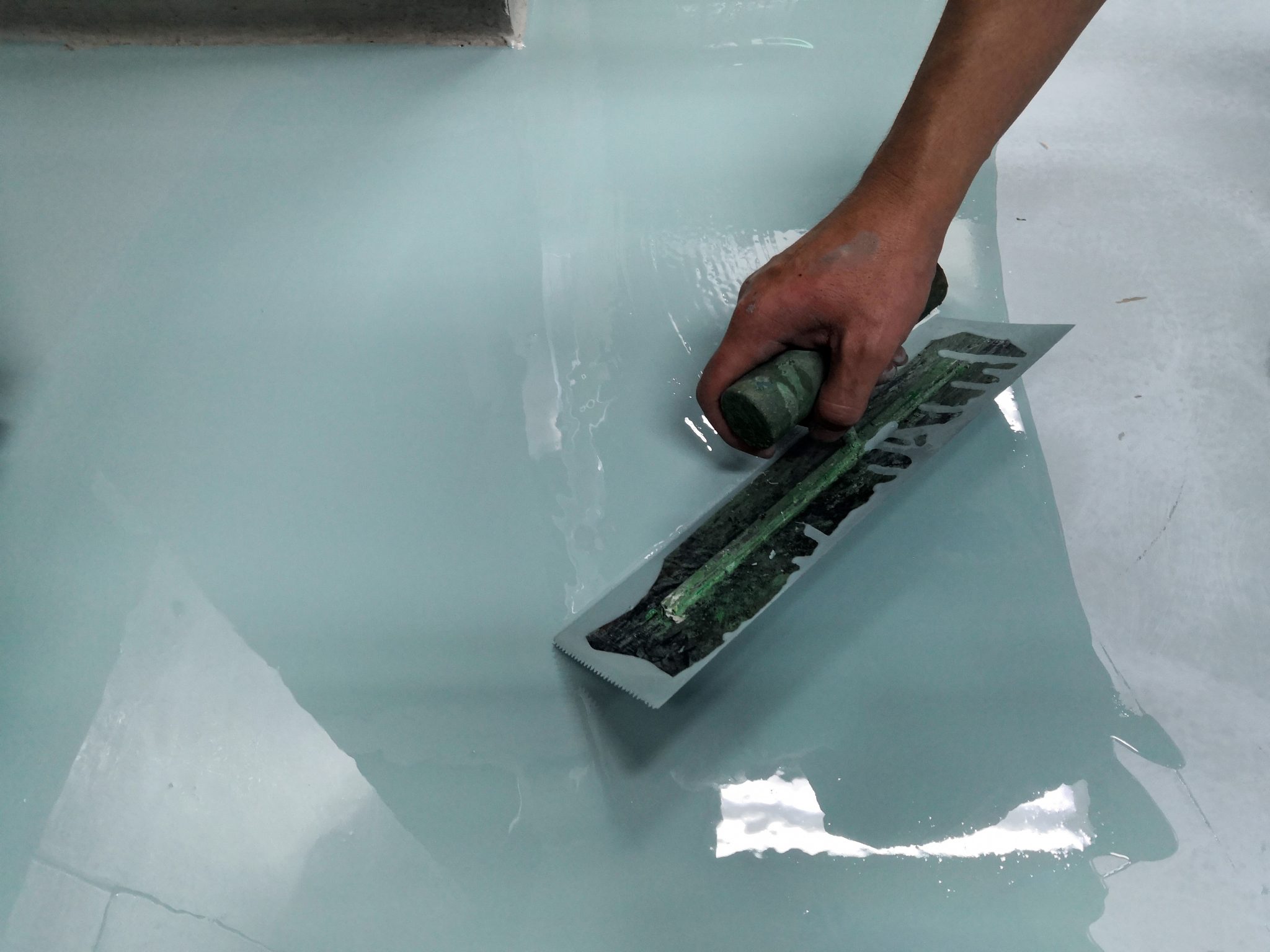 Your Epoxy Flooring Options
In a commercial setting, there are no better floors for most businesses than epoxy flooring. If you are searching for a durable option, then you should not look beyond this type of flooring. 
It provides a textured finish to add to the grip you get from the floor, and that does mean it will help you to meet various safety requirements for your industry. Our company has installed this floor in a wide range of locations, so we know exactly what is required in order to meet various safety criteria.
Installation, Repairs and Maintenance
As well as the actual installation, we also provide a repair and maintenance service should your old epoxy flooring have some sort of issue. We know that with extensive use, and the passing of time, that you may feel it's not working as it should, but we are here to help.
Our team can come to your location and assess the situation before providing you with a workable solution that fits your budget. Simply contact us to learn more about our repair and maintenance service and how it can relate to exactly what you are looking for.
What to Expect Us For Your Commercial Epoxy Flooring
When hiring our company to install your new epoxy flooring, it does mean you are working with a company that provides a professional service from start to finish. Even from that first call you make to our customer service department, you will encounter our desire to provide the best service to each and every customer.
From dealing with any questions you may have about commercial epoxy flooring, through to arranging the installation of your new floor, we will have you covered every step of the way.
And then there's the quality of our actual work. Our team only ever uses the best materials, and our team of installers are not only qualified to the highest standards, but are vastly experienced at installing this type of floor.
What that means for you is that you are in safe hands. We can deal with any problem or difficulties that may arise at any point. We can overcome those difficulties without it interfering with the end result. Also, we meet strict industry standards, so the finished result is going to be the best commercial epoxy flooring Melbourne can provide. 
Contact Us Today For The Best Expoxy Flooring in Melbourne
What you need to do next is to contact us via the number listed on our website in order to discuss your own individual requirements related to having a commercial epoxy floor installed at your property. 
When you call us, you can ask any question you like regarding the installation process while also arranging a time for us to come to your property and assess the project in person. Don't forget to get your free quote either. We offer this to all potential customers, and there are no obligations attached to it either.
We look forward to hearing from you, and helping you to have that brand new epoxy flooring installed in less time than you could imagine.
Call us today for a FREE quote on all commercial epoxy flooring!