We Are Your Epoxy Flooring Experts In Geelong
It is our speciality to provide epoxy flooring for garages, warehouses, and commercial floors that have been installed directly on concrete all over Geelong. We provide a wide range of services, from assisting you in the selection of the appropriate epoxy flooring to installing and maintaining it for you. You can have your flooring concerns answered all in one place.
Epoxy flooring is a great solution for your home, garage, or business building. As it is durable, safe and no slip and to top it off it looks great!
Boost the value and appeal of your garage by reviving it with epoxy coating. 
When it comes to flooring solutions for commercial establishments, we've got you covered!
Your warehouse deserves better flooring; consider the best one with epoxy flooring!
Residential Commercial and Industrial Epoxy Flooring Across Geelong
Installing epoxy flooring in garages, commercial facilities, and industrial warehouses is something we have done for a number of clients. And, in order to provide you with the clearest and most dependable flooring advice in the city of Geelong, our highly experienced staff of epoxy flooring experts is willing to travel far and wide to visit you at your home, your place of business, or your storage facility to check the conditions of the project site.
Although epoxy flooring installation may seem to be a difficult task at first glance, our significant expertise and experience promise you that it will be a simple procedure.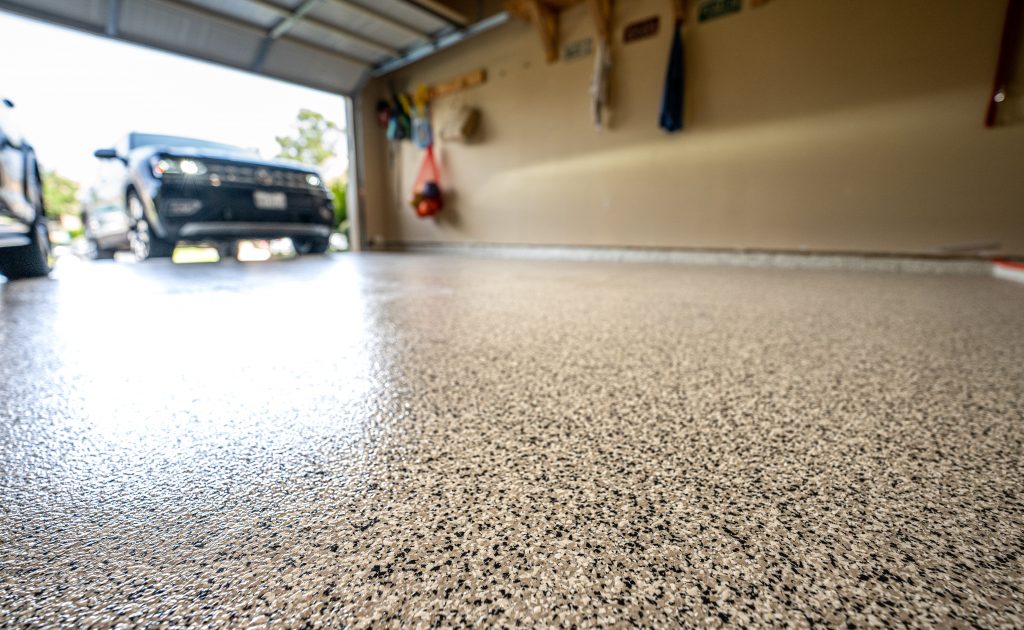 Call Us Today For A FREE Quote
What Benefits Can You Expect from Epoxy Flooring?
There are several benefits to having epoxy flooring done in your garage, your commercial property, or your warehouse that you can take advantage of. The following are some of the characteristics that distinguish epoxy as a superior flooring option for a wide range of applications.
When it comes to epoxy coating, the first thoughts that spring to mind are how tough and durable it is. We understand there's more to it than these two, but the fact that epoxy coating has gained popularity over time is mainly due to these factors alone. If you have a floor that is likely to be exposed to wear and tear, such as that in your garage or on floors that see a lot of foot and vehicle traffic, having durable flooring may be advantageous in a variety of ways.
Even while epoxy flooring can be laid on fresh concrete floors, the application of epoxy flooring on old concrete floors, which revitalises them, is possibly the most effective use of this material. While the existing concrete surface has served as suitable for the function for which it was designed, these concrete floors are not well known for being resistant to slippage. It is, therefore, preferable to use epoxy coating on old, slick concrete floors for safety reasons. The application of epoxy coating to a concrete floor can transform it into something altogether different, but unquestionably better and safer than it was before.
Your flooring does not have to be a drab slab of concrete. There is something that can breathe new life into your floor; it's called epoxy coating. You can create whatever pattern you want with epoxy because of the wide variety of designs and colours available. Are you looking for a marble design? We've got it. Do you want something that looks like it's in 3D? That can be done. Do you like your company's name or emblem to be prominently displayed on your floor? We've done it and we can do it.
If you want your floors to appear like the stars in the night sky, you have an option with epoxy coating to install glowing flooring. If you have a covered walkway or paved area, this epoxy floor design is great for you. The use of epoxy flooring allows for the implementation of a variety of additional stylistic and design elements. The only limit on what can be accomplished is your own imagination.
So, what happens to your epoxy flooring in the event of a spill of a harsh chemical? Short answer: nothing. Epoxy flooring is resistant to spills. However, to clean up a chemical spill, you need to do it responsibly and safely. This is particularly important when dealing with potentially harmful chemicals.
Unlike other floor coatings, our epoxy floor coatings do not absorb liquids, making them somewhat inert. If you spill chemicals on an epoxy-coated floor, the floor will not be damaged in any way whatsoever. Otherwise, it can be a significant problem, particularly in an industrial or garage situation, where spillages are more prone to occur.
We believe that it's a serious advantage knowing that this surface is so easy to clean. Typically, when a liquid spills, there is almost always some residue left on the floor, prompting the need for periodic resurfacing. However, when it comes to flooring coated with epoxy, this isn't a problem at all.
Rather than attempting to improve traction on an old concrete floor by resurfacing it, putting epoxy coating will provide you with a non-slip surface that is simple to clean and maintain. For your own and others' safety, keep in mind that epoxy flooring should always be considered in situations where slippage must be avoided at all costs. Consider the following examples: hospitals, showrooms, daycare centres, and other places where having skid-resistant flooring is not only desirable but also critical.
Call us today for a FREE quote for your epoxy flooring in Geelong!
The Advantages of Professionally Installed Epoxy Flooring
We recommend that you leave the installation and maintenance of your epoxy floor to the professionals—like us. Because of our significant expertise and experience in this industry, we can promise our customers that we will be able to manage any complications that may arise during the installation of our goods and services in a wide range of environments and situations.
In order to ensure the long-term longevity of your epoxy floor, simple details such as dust removal, sealing the surface, and even adding decorative patterns can make all the difference, as will how thoroughly the project was carried out and completed.
For those who are familiar with epoxy flooring, it's no secret that we offer the highest quality flooring solutions in the city of Geelong. Give us a call if you'd like to learn more information about epoxy flooring, or if you're simply interested in how we got our start and esteemed reputation in the business.
Epoxy Floor Coating Finish That's Right For You
Because of the large range of colour possibilities available, your epoxy floor might be far more appealing than most people would have anticipated it to be. However, it is important to remember that safety is the most relevant factor above all and that the colour of the surface serves no purpose other than to make it seem more appealing.
With epoxy coating, you have more flexibility in developing personalised finishes for your home that are tailored to your specific interior design ideas and colour preferences.
Which Floors Can Benefit From Epoxy Coating?
An epoxy floor will be an excellent solution for a wide range of applications. Its long-lasting surface will benefit your garage, commercial business property, industrial area, or warehouse, among other places. Additionally, when immediately applied over an old concrete or tile floor, it is a quick and simple approach to improve the look of the floor. In a nutshell, epoxy flooring can be employed in practically any environment where its advantages are desired, if not necessary.
If you would like more information on the kind of settings and places where this type of flooring can be used, please contact us at our Geelong office phone number or stop by our office in person. We have accumulated many years of experience in servicing clients, so please do not hesitate to contact us to clarify any doubts and get a free quote from us while you're at it. In addition, if you need us to visit your project location, we can accommodate such a request as well—all for free!
Contact us today for your FREE quote!
Our Epoxy Flooring Services In Geelong
The use of epoxy flooring in residentials is growing, after having been almost exclusive to commercial and industrial settings for several years. However, you need to consider what kind of epoxy floor performs best for a particular setting. Call us today to know the answer to your specific needs and setting.
Epoxy flooring can be utilised in warehouses, workshops, garages, kitchens, factories, food processing facilities, showrooms, sports and entertainment centres, hospitals, the petroleum sector, aeroplane hangars, and more! Too many to list; epoxy flooring is extensively employed in many industries. For the sake of culling the list, we will look at residential garages, commercial, and industrial warehouses as a starting point.
The Advantages of Hiring Us!
In order to provide our customers with the best possible service, our company only ever does work that satisfies all applicable safety regulations. While our skills and proper equipment help us carry out the task more quickly and more efficiently, we will not simply show up at your house and start sealing in the old flooring. That's not what we do, and it goes against the values we hold dear. 
You should expect us and companies like us to come to your location to assess the condition of the existing flooring before anything else. This is our standard practises as it is the only way to determine whether any concrete repair work is needed before putting the epoxy flooring. To ensure that your floors will last for a long time, we use only the best materials, and our work will be difficult to match in the business.
High-quality materials and craftsmanship enable us to create long-lasting floor coating for commercial and residential properties alike. You'll be pleased with the price, but we urge you to request a free estimate from us first so that you know exactly how much it will cost to have an epoxy floor installed in your house before you spend any of your hard-earned money.
Get in touch with us today to learn more about our epoxy floor coating services—the best in the whole of Geelong—if you're considering having it applied to your floors. In the course of our discussion, we'll go over the price of putting an epoxy garage floor or resurfacing the concrete if necessary, as well as the price of any other epoxy coating options for your garage, commercial space, or warehouse.
The epoxy coating that we supply is available in a broad range of colours and designs, and it can be applied over the top of either a new or an existing concrete floor. However, when you contact us regarding your flooring, do not forget or hesitate to get a free estimate. Our quotations come with no strings attached, and you can be certain that you will get high-quality services from us, as we always do for all our clients.
Call us now for your epoxy flooring in Geelong!