If you are here because you've heard about epoxy flooring Melbourne, you came to the right place! This article will explain what epoxy is and why it's popular.
Brief Description of Epoxy
Epoxy is an environment-friendly, durable coating that has many applications. It is used to coat industrial and residential floors during the construction phase to protect the floors against potential threats for a given period of time. With epoxy applied on any floor, you are guaranteed that the floor is safe and secure. Epoxy has excellent resistance against impact and heavy loads. Chemically speaking, epoxy coatings are formulated as an emulsion in water, and therefore can also be cleaned up without the need for solvents or any special kind of cleaner.
Benefits of Epoxy Flooring
When it comes to purchasing a new item or device, we tend to check them and make a decision according to the following basic categories:
The above list is not in order; the order of importance varies from person to person. But most people put great emphasis on price and quality above all others. When it comes to flooring, the same categories can be applied when looking for the best option that fits the budget. Although durability usually comes first when it comes to flooring, because the floor is the part of the building that takes the most beating. You might have a different answer to this, depending on your needs.
Here we list down the benefits of selecting epoxy flooring Melbourne:
The Appeal of Epoxy Flooring
In this modern world, people are looking for more efficient flooring that is durable and can be easily cleaned. Floors nowadays come in a variety of colours to match any decors they have without being loud or flashy. These epoxy surfaces also allow for beautiful designs embedded in the floor, rather than chaotic patterns like you would find on carpeting. 
One problem with most floors is their maintainability, which can be more challenging than you might think. A solution to this problem is epoxy, which can be easily cleaned up even without water. With epoxy flooring Melbourne, you are getting a floor that's beautiful, durable, and can be easily cleaned up. No wonder why more people are becoming fans of epoxy flooring!
Where to Use Epoxy Flooring
Epoxy floor coating has been around for a long time. It was originally used only in commercial and industrial areas, but now it's being applied to residential places as well. The main function of this flooring material is to reduce the risk of accidents due to slipping hazards and remove the worries of having cracks and scratches on it. There are still some things that need consideration before applying, though – like, what kind of epoxy floor will work best based on where you need it?
And so, we list down the most common areas where epoxy flooring Melbourne is used, as below:
The use of epoxy flooring Melbourne is not limited to the above areas or facilities; there's a lot more uses than you can think of! When applied to an old concrete floor, epoxy can revitalise that flooring, extend its life, and add more durability to it. Epoxy flooring is also waterproof that you can use it for swimming pools and bathrooms. With its many favourable attributes, the specific use of epoxy flooring that may be essential to you depends on your needs for a particular space.
Durability of Epoxy Flooring
As stated many times in this article, epoxy floor coating is known for its durability that works to protect your floors from all types of impact and heavy loads. If the floor is expected to be regularly driven on, parked on, or stored on with heavy machinery, the professionals will tell you that the best flooring to install is epoxy flooring Melbourne. Epoxy flooring is tough enough to withstand all these loads without suffering damage or scratches on the surface.
The Epoxy Flooring Experience
We all have a choice when it comes to flooring. Whether you want something smooth, glass-like, or textured depends on what type of environment your space will be. The common thing we want is a floor that suits your needs functionally and aesthetically. Another thing that is often forgotten is the 'feel' we get when walking on the floor, which is something not defined under function nor aesthetics. With epoxy flooring Melbourne, these aspects are all addressed and satisfied! Walking on epoxy flooring gives off a 'feel' of a premium or first class, while also being both durable and beautiful.
One thing you should know is that epoxy has quite a strong smell when applied. Although, the smell goes away only a few days after it's cured. The foul smell is caused by epoxy vapours, which can affect your respiratory organs such as the throat, lungs, and nose. Repeated or excessive exposure to epoxy vapour may cause allergies and even asthma. So, when epoxy flooring is being installed, it is always required to wear an industrial grade mask to protect yourself. Better yet, stay away from the site and let your flooring contractor handle their job without worrying about you.
Installing Epoxy Flooring
Having heard or read about how great epoxy flooring Melbourne is, you would want this tough but beautiful flooring for your home or business. It's that great and you want one. However, hold on to your horses, because you should have also known through your reading or passed on knowledge that installing epoxy flooring is a job only professionals should do. Any DIY attempt is discouraged as it could result in a disaster!
There are a number of flooring contractors in Melbourne out there, but be careful because not all are truly experienced and experts. We have a team of experienced professionals whom you can speak to, and you can even test our knowledge and expertise on the matter by asking us tons of questions! We'll answer them professionally and recommend to you the best course suitable for your needs. From measurements, to volume estimation, budgeting, installation, finishing, and guarantee — we can do it all for you! Installation of epoxy flooring in Australia must comply with the specific requirements of the Building Codes of Australia (BCA); we will also take care of this for you. So, after you've made the decision to hire us to install epoxy flooring Melbourne, you can sit back and relax, and we will handle the rest.
For the sake of information, below is a list of equipment and tools needed when applying epoxy flooring. Other floor contractors may use different alternative tools, but they should serve the same purpose as those listed here.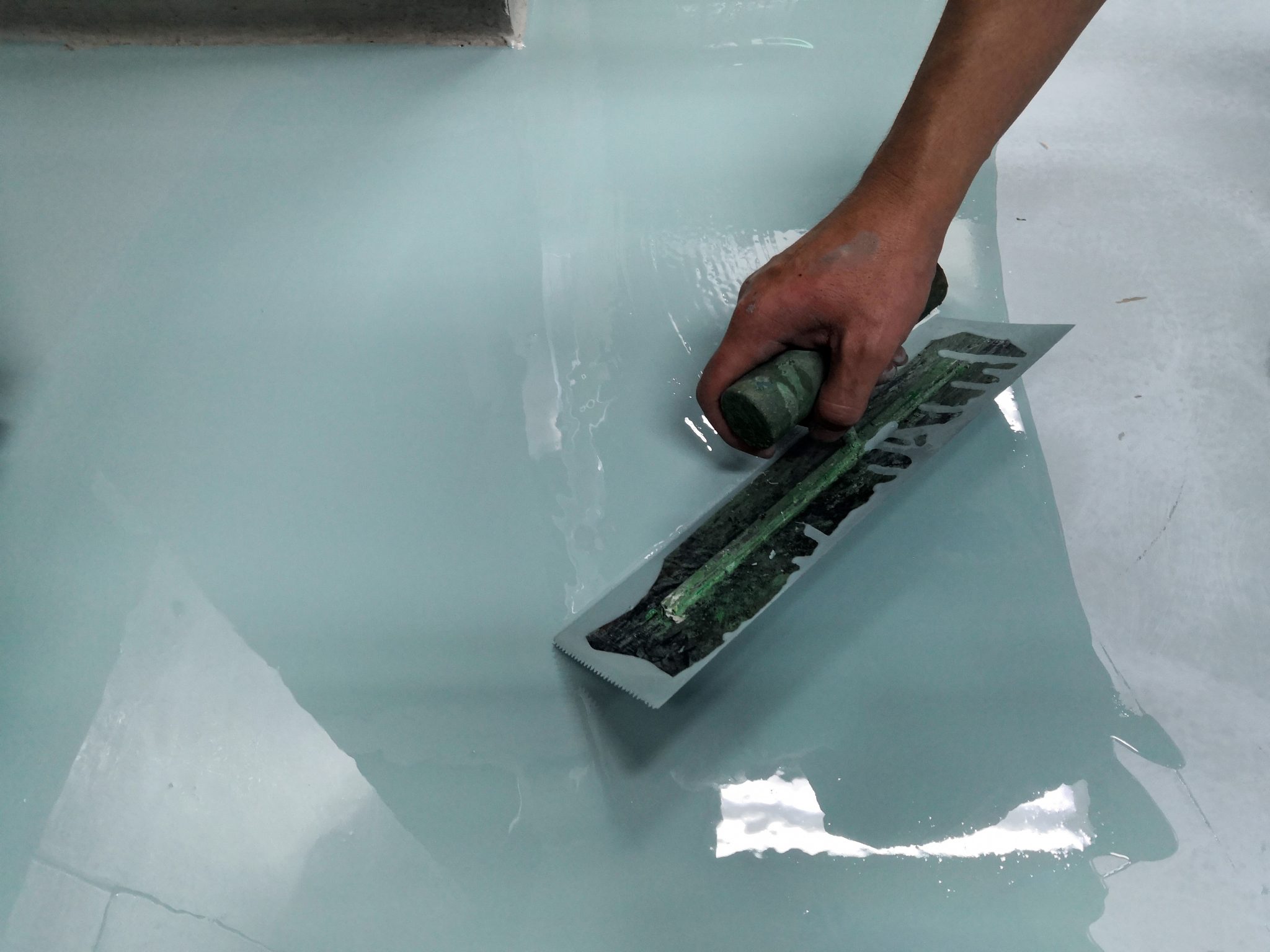 Surfaces Suitable for Epoxy Flooring
You can apply epoxy on a number of different surfaces without much effort or worry that it might not work. Some epoxy-friendly materials found in residential, commercial, and industrial structures are as listed below.
The last two materials are commonly used for flooring. So, if your floor is wooden or concrete, you can certainly coat it over with epoxy as a protective layer, along with all its good properties.
When you cover a new or old concrete, it becomes a "concrete epoxy". Concrete by itself is the most durable flooring material ever known. Now, with epoxy coating, that durability will shoot up even higher! That's why concrete epoxy floors are widely used in spaces where durability of flooring is important. If applied on an old concrete, epoxy can even cover the cracks and dents to extend the life of the concrete floor. Epoxy flooring Melbourne 'heals' your old concrete and protects it.
"How about the basement? Can I use epoxy for my basement?" you may ask. Straightforward answer: Yes, you can. Epoxy flooring is the great choice for the basement. In fact, this has been done by many people, so you can feel confident about it. 
Traditionally, basement floors are only painted. Well, scrap tradition to give way to the latest and better one – epoxy flooring! Epoxy floors for the basement serve as a sealant that help prevent lines and cracks from developing. Compared to plain concrete floor, epoxy flooring Melbourne is cleaner, drier, less slippery, and not to mention, better looking. And speaking of good looks, epoxy flooring comes in many colour options to choose from, depending on your taste. We can recommend based on our experience, but the decision is only yours to make.
Waterproof Epoxy Flooring
Epoxy flooring is waterproof in a way that once applied, water will not be able to pass or leak through. This is one of the many reasons why epoxy flooring is better than concrete. Concrete is not completely waterproof. No matter how well you finish the outer layer, concrete flooring will crack and leak eventually. Not the case with epoxy flooring. This makes epoxy a great choice for floors that are regularly wet, like toilet and bathroom, swimming pools, kitchens, etc.
Furthermore, as epoxy is waterproof, it is actually resistant to most liquid and stains. So, if you spill a liquid on an epoxy flooring Melbourne, worry not because the floor won't get stained, and it takes little to no effort to clean it up.
Speaking of cleaning up an epoxy floor, this section will discuss this topic. While epoxy is easy to clean up, it still needs to be done, like all other flooring materials do! So, you may ask, "How do you clean an epoxy flooring that's supposed to be stainproof?" Continue reading to find out the answer.
Epoxy floors are stain proof, but of course, you cannot just leave the stain there as it might stick to the surface if left for too long. It is stain proof in the sense that the stain doesn't immediately stick to the surface. To clean epoxy floors, use a soft cloth to wipe the stain away. If needed, you can use a mild cleanser to get rid of any sticky residue. For old stains that are hard to remove, you can spray ammonia solution and wash it off with a nylon brush.
Under normal conditions and with proper maintenance, epoxy flooring Melbourne can easily be kept in immaculate condition for a long time.
Although it was mentioned many times in this article that epoxy flooring is tough and can withstand impact, epoxy floors can still get cracked by high enough loads.
Another cause of epoxy floor cracking is when the epoxy was laid out unevenly during installation, that some areas got too hot and cured faster than other areas. Owing to laws of thermal expansion, materials that experience changes in temperature will also experience thermal expansion as it gets hotter and will shrink as it gets colder. An epoxy flooring that expands then contracts will crack, even the already cured areas. 
The good news is that if the cracks are only on the surface or only a few, it can still be repaired. Surface-level cracks can be salvaged by sanding and filling processes. The procedure usually goes as below. Remember that installation or repair of epoxy must always be done by professionals.
Sand down the entire surface of the epoxy floor. Use a very fine sandpaper (~ 320 grit) to avoid sanding too much, which may prevent proper bonding with a new layer of epoxy to be applied.
Wipe off the surface of all residues from sanding. Use a high-pressure air blower or even a wet, clean rag for this task. Make sure the surface is completely dried before applying the new epoxy coating.
Now apply the new epoxy over the entire surface, and wait for it to cure. This will give the floor a complete makeover.
Note: If the chipping or cracking is only minor, no need to sand down the entire surface of the floor. A quicker solution is to apply epoxy only on the cracked areas to fill the gaps and spaces using a fresh mortar and trowel until it overflows out of the top. Then use the trowel to smooth the surface and remove any excess mortar.
While this is a concern for the flooring contractor, this section tells you how thick epoxy coating should be applied. If you must know, epoxy floor thickness normally ranges from the very thin 0.3 mm to a thick 5 mm. In special cases, epoxy floor coats can reach up to 10 mm thick. The thickness of epoxy to be applied depends on the existing surface being coated and the needs of the space. The contractor will take all conditions into consideration to come up with an optimal thickness for your epoxy flooring Melbourne.
One of the great things about epoxy flooring is that you can have a 3D design on it. 3D epoxy flooring is fast becoming a popular choice for those getting their floors epoxied. If you've seen a 3D design on a flooring, it can only be possible through epoxy coating. The design is mesmerising, it's drawing you in; and you'll never go back to plain old flooring again
3D flooring is composed of 3 basic parts, as below:
The 3D image is sandwiched between layers of epoxy resins. With the excellent sealing properties of epoxy, this 3D image is safe and should last as long as the epoxy flooring exists. It's your floor, so it's also your choice what 3D design you want. The flooring contractor will produce the image and will take care of the rest of the epoxy installation. Next thing you know, the epoxy flooring Melbourne with 3D design that you've always dreamed of has become a reality.
It's common to see these 3D epoxy floors in places like the bathroom and toilet, hotels, lobbies, kitchen, shopping malls, etc.; generally, places that people visit for leisure or relaxation.
Disadvantages of Epoxy Flooring
It's always better to see both sides of the coin before deciding to place your bet. If you weigh the pros and cons, you're more likely to make an informed decision that you will not regret later. After all, you're investing time and money into this, this is an expensive project and each decision should be made based on both the good and the bad. 
The advantages have all been listed and discussed above; now we turn to the disadvantages. And there are a few cons to using epoxy flooring, as listed below:
Consult with Flooring Experts!
If you've read this far, then you should know about epoxy by now; just enough knowledge for you to make an informed decision. Epoxy is a complex subject and this article only provided what's relevant to flooring systems. If you ask us, we'd recommend epoxy for almost any type of flooring. We have several years of experience and expertise to guarantee what kind of epoxy works for which type of flooring. If you still want to know more or have some doubts, we invite you to come and consult with us about your concerns. We'll be able to fill any gaps in your knowledge of epoxy flooring and help you make your decision.
Epoxy flooring Melbourne has been our speciality for many years. We've helped a lot of people in Melbourne achieve their needs for durable and beautiful floors, and we can help you get one too! Even a quick consultation can go a long way.
Call now and get a free quote!