Have you been cautious when working in your garage as you might damage the floor? If you have a garage epoxy floor, you will never have to! Allow us to explain this to you.
Garage floor is a floor that needs to be stronger than other floors, as it is one of the most well-used surfaces, either at home or at work. Your garage floors need to be strong and durable, as they take are walked on all the time and driven over endlessly with cars parked on them all day long. We also store many heavy things in the garage, and it's also a normal sight when we find liquids on the floor. That's just how abused garage floors are, and so they should be safe and strong.
It's important to have a garage floor that can withstand daily wear and tear. The last thing you want is for it to crack, chip or get worn down easily because of all the contact it will likely be exposed to on an everyday basis. Not only does this give you a headache and will cost you money for repair, but also poses risks where a tripping accident may happen.
Being safe, tough, and functional doesn't mean it should be ugly. You must know that a garage can be the first impression that someone has of your property, so it needs to look great! A lot of times, people think garages are just for storing stuff and don't care if their flooring looks bad or not—but this is wrong! Garage floors should be tough and still look good. You can get the best of both worlds with a garage epoxy floor.
There are so many flooring options out there that can make it hard to decide which garage floor coating is best for you. But struggle no more as we give you the answer – it's epoxy! With epoxy, you can make sure that all the above needs are met. Garage epoxy floors can do it all without fail or hassle.
So, what is epoxy flooring?
Epoxy is a durable, tough, and versatile material that can be used to create surfaces with great strength. Systems made from epoxies use blends of resins and hardeners which, when mixed together, chemically react to affect one another until they form an extremely strong plastic-based layer. Epoxy can bond seamlessly onto any base surface, including concrete or other materials, making it perfect for commercial and industrial spaces, as well as residential homes.
Below are the reasons why you should consider a garage epoxy floor system.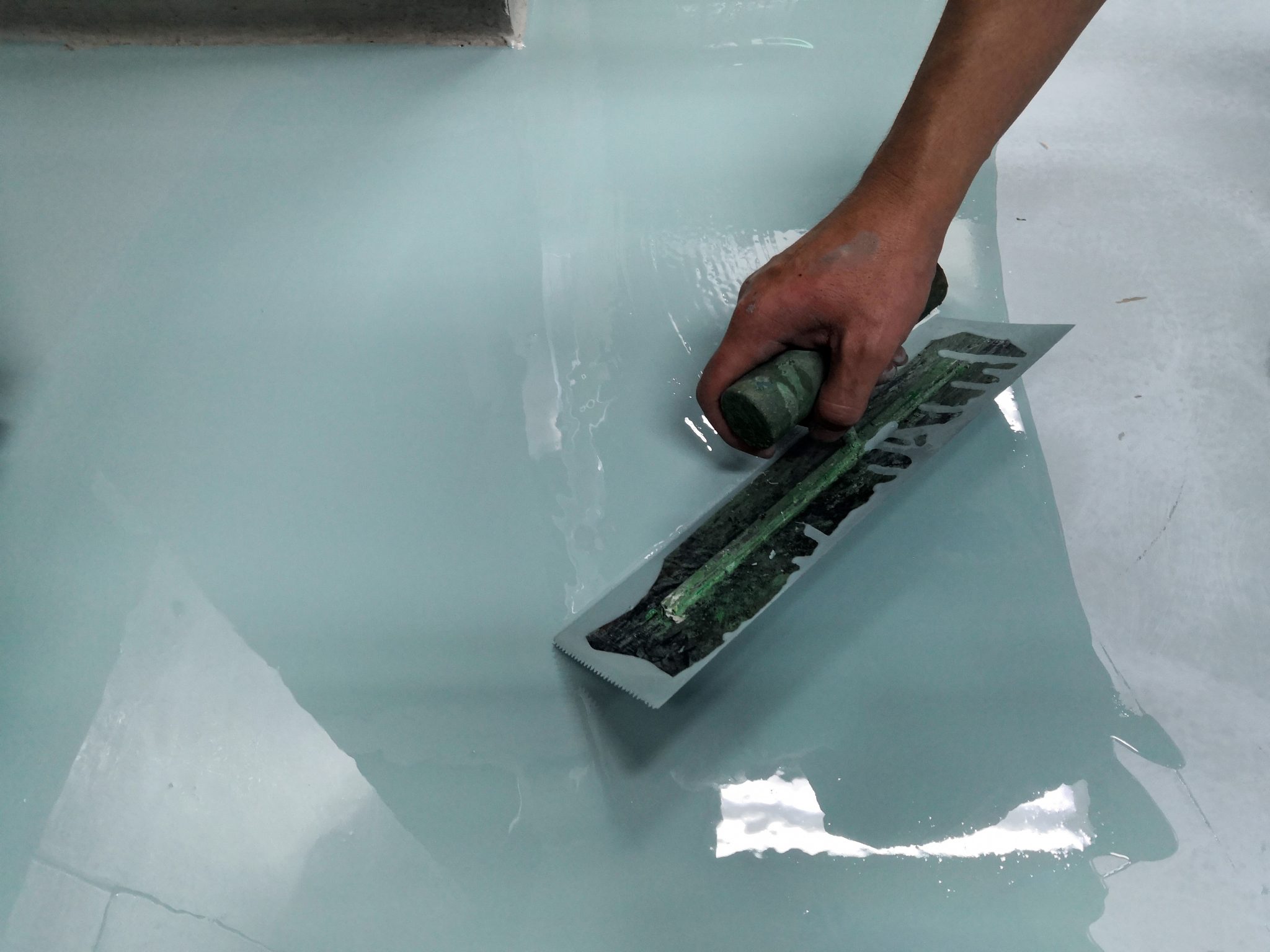 Epoxy is resistant to a lot of harmful liquid
Epoxy is a great choice for garage floors because it's tough enough to resist just about anything that spills on it; this includes oil, gasoline, bleach, or even transmission fluid. The chemical resistance of epoxies makes it the perfect coating in these spaces where any number or type of spill could happen. It can even resist oil stains and gasoline sprays without giving way to their destructive power. Garage epoxy floors are also resistant against water or chemicals, so you don't have to worry when cleaning up messes or leaks on the floor – just use some soap and warm water.
Epoxy is versatile when it comes to aesthetics
Epoxy is an excellent material for flooring in a garage or small workshop. The variety of colours and patterns ensure that you can find one to match your decor. If it suits your taste, epoxy flooring allows you to embed a brand-name graphics for a professional look when parking vehicles inside the garage. A more traditional design with straight lines is perfect if subtlety matters to you. But even something as bright as colour flake chips will add interest without drawing too much attention away from other features. A garage epoxy floor with cool design can become a reason why you love working in your garage.
Epoxy can stand up against everyday wear and tear and also lasts longer than other materials like wood or carpeting that need constant maintenance in order to look good. Only concrete can last longer than epoxy, but concrete is vulnerable to water damage. The good news is that you can cover the concrete floor with epoxy to give extra durability, while also sealing cracks and preventing water damages to the concrete.
Epoxy keeps your floor safe
Epoxy is a versatile and practical material that has resistance against abrasion, chemical, heat, slip, and electrostatic discharge. With all these attributes, epoxy makes the perfect material for any task. Epoxy can also reflect lights off the floor to provide additional visibility to your garage, giving you more sense of safety and security.
Epoxy can last for a long time
Epoxy flooring has been around for a long time, and its durability makes it practical for use in commercial and industrial spaces. In addition, the chemical composition of epoxy allows it to withstand scratches. If installed properly, garage epoxy floors can withstand decades of wear and tear and still can look good as new with proper maintenance.
Epoxy is easy to look after
Garage epoxy floor is a low-maintenance surface that can last a lifetime with proper care. Maintaining epoxy floors isn't hard either, because unlike traditional tiles, they're very easy to clean up. Not many liquids can stick to epoxy flooring, so it's really as easy simply scrubbing them away!
Epoxy protects the concrete floor underneath
If you decide to cover your old concrete floor with epoxy, not only will it improve the appearance of your garage floor, epoxy will also protect the concrete from cracks, moisture, grease and stains. Concrete floors can be expensive to repair, and the result can be messy. But with garage epoxy floor coating, you will have a floor that's beautiful and also exceptionally durable. Having your garage floor coated with epoxy is a cost-effective move, as it saves you some money for possible repair and maintenance down the road if you left the concrete as is. Epoxy can also prevent concrete dusting or chalking and powdering, which is a common occurrence in regularly used spaces such as your garage.
Epoxy is quick and easy to apply
Epoxy is the perfect choice for your garage floor, because it has less curing and drying time than other coatings, including urethane coating. You can use the space immediately after installation, meaning less downtime – plus you save some money! With a garage epoxy floor in place, this decision will pay off in more ways than one by saving both time and energy, resulting in more productivity at work or at home.
Is there any bad thing about epoxy flooring?
Well, unfortunately, there are a few downsides to epoxy flooring that you should consider, as listed below:
Preparing the old floor for epoxy treatment can be tedious
Getting the existing floor ready for epoxy treatment can be time-consuming and somewhat back-breaking. You need to have a clean concrete surface that is free of dirt and pollutants like grease, oil, or solvents before applying the epoxy resin. The cracks on the old concrete floor will also need to be filled for effective sealing. The good news is that you can avoid doing this work yourself by hiring epoxy floor expert  to do the job.
Epoxy can emit some strong fumes
If you're not used to working with epoxy, the fumes can be strong, and it may be wise for safety reasons that an odour isolation mask is worn. Epoxy, especially the darker shades, has a high concentration of hardeners which tends towards having a distinctive chemical smell after application. Of course, when you hire someone to install an epoxy floor for you, they have all the correct protective equipment for the job. This way you can avoid getting directly exposed to harmful fumes coming from epoxy.
Moisture trapped by epoxy flooring can become a problem
Epoxy is an effective moisture barrier. So effective in fact that it traps all moisture below the surface, and the trapped moisture will eventually add up in an amount large enough to cause a problem as it evaporates and forces its way out. Some bubbling or buckling in the epoxy flooring may start to occur, which may need repair or refinishing later on.  This phenomenon can happen during hot seasons when ground temperature is high. It is always a good idea to talk to an epoxy expert about this before installation.
Decided on getting your garage epoxy floor yet?
There you have both the advantages and disadvantages of getting a garage epoxy floor system. With this knowledge, you'd be equipped enough to make a wise decision, as you have considered both sides of the coin you're getting. You might be excited to get started with this project, but understand one important thing – this job is better done by the experts. If you do it yourself, the odds of messing it up are quite high, and you'll end up spending more money and taking much longer time to get done. 
So, come visit us in Melbourne for consultation on getting your garage epoxy floor. We have a team of professionals who can answer your inquiries and will recommend the best solution for your needs. We can provide you the highest quality garage epoxy floor that fits your budget! 
Our job starts from taking ocular check and measurements of your space, to preparing the design for your approval, getting the existing surface prepared for epoxy application, and finally the installation of epoxy flooring in your garage. 
You can choose from different colour options, flakes, and effects such as marbles. And if you fancy having an image or logo embedded on your garage epoxy floor, we can do that too!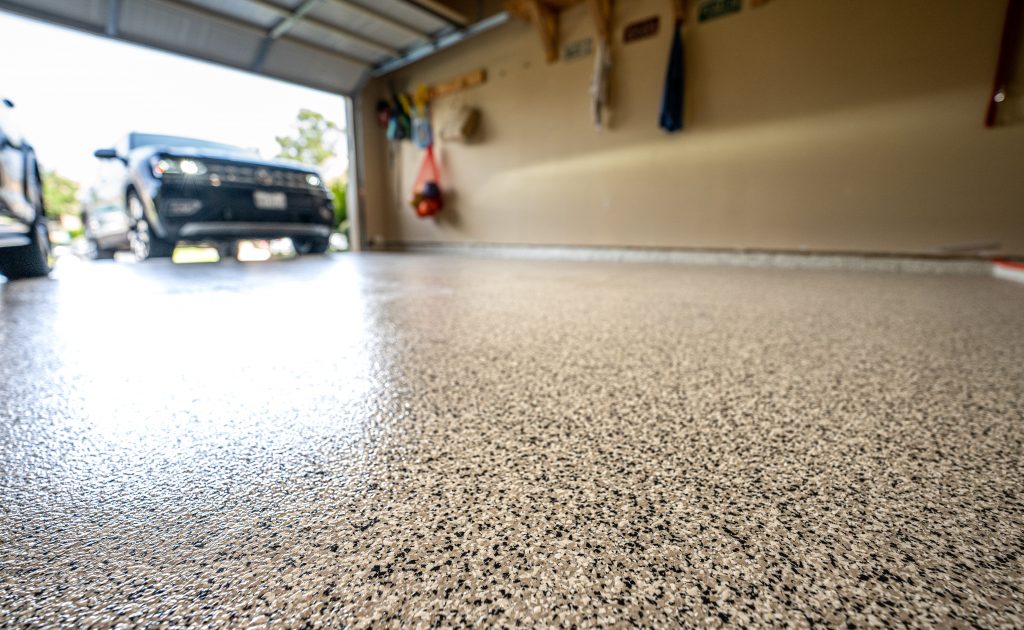 Call now and get a free quote!